Struts Online Training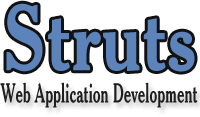 Struts Online Training and Classes in Hyderabad by Real Time Faculty
Many of the job aspirants were looking for best training institutes to teach Struts. Struts is the good framework, which is having number of openings in various companies. By preparing Struts perfectly any one can grab good opportunities in software field. The persons having idea about Core Java and Advanced Java can easily learn Struts. All the major and important topics will be explained by real time faculties through online on our site. Hence one can overcome the real time stress by taking proper coaching on struts. Interested candidates can attend the Struts online classes from anywhere in Hyderabad , anywhere from India and you can even attend the classes from abroad like UK and USA. There is no time constraint, aspirants can contact any time for doubts and queries on struts framework.. All the faculties dealing with the Java and Core Java Classes were well trained and masters in their field. So the training is going to give you good and excellent knowledge and grip on Struts framework.
By taking Struts course, one can get excellent employment opportunities that turns their career. Any of the candidates interested in learning Struts can attend the Struts Online Classes. Candidates having good ambition towards software job can chose this career. The Training also makes you sharp when it comes to real time work because the training will be given in such a way that it will be easier to the candidates to handle the real time progressions. Aspirants can attend the classes from any area in Hyderabad, from India and out of India. The Training fee also reasonably charged and subject will also covered to the depth. The explanation will goes on with real time examples and scenarios.
For any queries and information users can click on the contact us link in the bottom of this page. Also interested candidates can attend the demo session for Struts online class.. By attending the demo you can get good clarity on the Struts framework. For any doubts clarification faculty will be available at your required timings. We provide online classes on struts with a great deal. Check the syllabus covered in struts in the fallowing information.
Struts Online Classes in Hyderabad Topics
? Difference between Servlets and Struts
? MVC introduction
? MVC2 introduction
? Struts Architecture
? Simple application
? Internationalization and Messages support in Struts
? Struts Controller components (ActionServlet, RequestDispatcher, ModuleConfig, ActionMapping, ActionForward)
? Struts user defined components(ActionForm, Action class)
? User defined extension classes
? DynaActionForm
? DynaValidatorForm
? validator-rules.xml
? validation.xml
? DispatchAction
? EventDispatchAction
? LookupDispatchAction
? MappingDispatchAction
? ForwardAction
? IncludeAction
? SwitchAction
? DownloadAction
? Tiles (Layout management)
? SimpleLayout
? Tiles definations
? tiles-defs.xml
? Tiles Inheritance
Contact Us for more queries and Demo Class
COURSE REVIEWS